OSHO is a registered trademark of Osho International Foundation,
used here with permission of the foundation – www.osho.com/trademarks
Some works in images, videos or text format are copyright
© Osho International Foundation. www.osho.com/copyrights
[tw-divider][/tw-divider]
Meera has suddenly and unexpectedly left us to the other shore. As of her instructions and wishes her courses and trainings will continue and the spirit of her work will be kept alive by her longterm assistants to their best abilities and in the way she would have liked.
Meera leaves with us a vast inheritage of paintings, DVDs, books and most of all will continue to be alive deep in our hearts and remain a continuous source of inspiration and love.
Thank you, beloved Meera, for the gift of being who you are!
The Meera Art Academy Team really carry on Meera's fire and spirit to help people to discover their creativity, joyfulness and innocence.

https://www.meera-art-foundation.com
Contact: info@meeraartfoundation.com
[tw-divider][/tw-divider]
MEERA EVENTS 2019
Meera Art Exhibition in Munich
May 30 – June 2 2019
Atelier Benad, Wörthstr. 22, Munich
-> Info: www.meera-art-foundation.com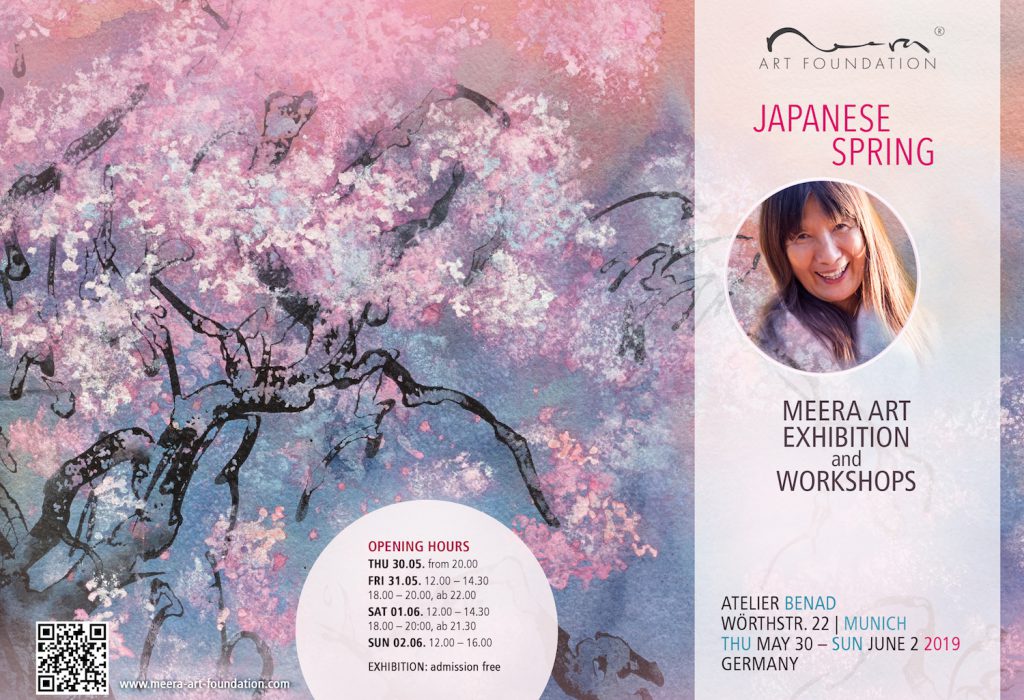 Meera Art Exhibition
Organised by Meera Art Foundation, Munich
[tw-divider][/tw-divider]
SCHEDULE 2019
OSHO Art Therapy & Painting Training
MO., 22. JULI – 2. AUG.
MO., 22. JULI – 2. AUG.
Amalurra, Artzentales, Spain
INFORMATION:
A watching space, an ability to see one's own character is needed and out of this watching, love arises naturally. Love is a by-product of meditation. So the therapist's job is not so much to give advice but to help people catch the fire of watchfulness – this is the key for working with people"
Meera Hashimoto from Osho Therapy, Svagito Liebermeister
This training was designed for people who have a strong wish to work with people. 12 days Art Therapist and Painting training in Amalurra, in the heart of the Basque country Spain. This is the longest such training in Europe this year and an opportunity for total immersion in Primal Painting, Self Portrait and Nature Painting over two weeks. A chance to reconnect with the childlike innocence of the being through painting, meditation and group work. The first week gives us the space to reconnect with ourselves and our own creativity and in the second week we experience our inner and outer nature by painting outside in the beautiful orchard, woods and gardens of the Amalurra community. A unique chance to participate in a training event presented by facilitators and staff who worked with Meera over many years.
PRIMAL PAINTING: During the first 3½ days we explore the psychology of creativity through dance, movement and exercises, designed to loosen and release our creativity blocks and reconnect us with our authentic expression. A chance to rediscover the joy of painting that every child discovers naturally when there is no goal or pressure to "make something"; simply painting for the joy of painting. This training is the foundation of Meera's work and was developed over 35 years.
PORTRAIT & SELF PORTRAIT: The next 3½ days of Self Portrait and Portrait introduces us to one of the most difficult artistic subjects of all; the human face. This happens as a gentle unfolding which brings us into contact with the mystery of the human face and our own darkness. Over these days we make friends with our own image and all that it represents by looking into the mirror using special paints and paper we slowly uncover our own mystery and discover layers of self-acceptance while meeting ourselves in a unique way.
NATURE PAINTING INTENSIVE: Painting outside in the natural beauty to be found around Amalurra in the river bed, woods and gardens gives us a taste of the silence of nature. We find our own expression as we paint among the trees and plants. Nature provides a mirror which lets us get closer to our inner and outer freedom. Group work is an essential part of the process which supports our growth together as we move as one energy from the group room outside into nature.
All of the training takes place in an environment of meditation and playfulness. OSHO Dynamic meditation, Kundalini meditation and Evening Meeting are our constant companions during this painting and training experience.
This year there will be 1½ free day's between part 1 and part 2 which can be used to visit the Guggenheim Museum in Bilbao, or the replica of the Altamira Caves near Santillana del Mar or just to explore the mountain and wonderful nature around Amalurra.
LOCATION: Amalurra, Artzentales approximately 45 minutes outside Bilbao in northern Spain.
FACILITATION: Tosho, Sahaja, Premraj, Ojas and Svagito
Part 1 July 22 to 27: Primal Painting and Self Portrait: Building on the essentials.
Part 2 July 29 to August 2: Transformation in Nature: The inner experience of painting outside in nature.
Both weeks may be booked separately.
The training is presented in English with Spanish translation provided
FACILITATION: Sahaja, Tosho, Premraj, Ojas and Svagito
BOOKING & FURTHER INFORMATION
Contact: dhyanojas@gmail.com
for full details and "early bird discount"
meera-art-foundation.com
[tw-divider][/tw-divider]
[tw-divider][/tw-divider]
[tw-toggle title="Osho on Therapy"]
THE PURPOSE OF THE THERAPY GROUPS
…is not to bring the participants to their natural self – not at all. The purpose of the therapy groups is to bring you to the point where you can see your unnaturalness. Nobody can bring you to your natural self; there can be no method, no technique, no device, which can bring you to your natural self – because all that you will do will make you more and more unnatural.
Then what is the purpose of a therapy group? It simply makes you aware of the unnatural patterns that you have evolved in your being. It simply helps you to see the unnaturalness of your life, that's all. Seeing it, it starts dispersing. To see it is to annihilate it, because once you have seen something as unnatural in your being, you cannot persist in it any longer.
And seeing something as unnatural, you have also felt what IS natural – but that is indirect, that is vague, that is not clear. What is clear is this, that you have seen that something is unnatural in you. Seeing the unnatural you can feel the natural. Seeing the unnatural, you cannot support it any more. It existed because of your support – nothing can exist without your support. Your co-operation is needed.
If you co-operate something exists. Certainly the unnatural cannot exist without your co-operation. From where will it get the energy? The natural can exist without your co-operation, but the unnatural cannot exist. The unnatural needs constant support, it needs constant care, it needs constant control.
Once you have seen that this is unnatural, your grip on it becomes loose. Your fist opens of its own accord. The group is not a device to open your fist. It is just to help you see that what you are doing is unnatural. In that very seeing, the transformation.
You ask: IS THE PURPOSE OF THE THERAPY GROUPS TO BRING THE PARTICIPANTS TO THEIR NATURAL SELF?
No, that is not the purpose. The purpose is simply to make you aware of where you are, what you have done to yourself – what harm you have been doing continuously and you are still doing. What wounds you are creating in your being. On each of the wounds is your signature – that is the purpose of the group, to make you alert about your signature. That it is signed by you, that nobody else has been doing it.
That all the chains that you have around yourself are created by you. That the prison you live in is your own work. Nobody is doing it to you. Seeing it, that "I am creating my own prison," how long can you go on creating it? If you want to live in the prison, that's another matter – but nobody ever wants to live in the prison.
The group therapy is to make you aware that neither God is responsible nor is society responsible nor are parent? responsible. If there is anybody who is responsible it is you? A group process is a hammering of this simple fact – that it is you who are responsible. And this hammering has a great significance.
Because once you understand that "This is ME, I myself am doing wrong to myself, "then the doors open. Then there is hope. Then something is possible. Revolution is possible through responsibility, individual responsibility. You can transmute; you can drop those old patterns. They are not your destiny. But if you accept them as your destiny they become your destiny. It is all a question of whether to support them or not.
And I am not saying that parents have not done something to you, remember. And I am not saying that the society has not done anything to you – I am not saying that either. The society has done much, the parents have done much, the education and the priest, they have done much. But, still, the ultimate key is in your hands. You can DROP it, you can drop the whole conditioning.
Whatsoever they have done, you can erase it – because your consciousness at the deepest core always remains free. That is the purpose of a therapy group, to bring this truth home: that you are responsible. 'Responsibility' is the MOST important word in a group-therapy process. Nobody wants to take the responsibility, because it hurts. Just to see the point, "I am the cause of my misery," hurts very much.
If somebody else is the cause, one can accept it, one is helpless. But if I am the cause of my misery, it hurts. It goes against the ego, it goes against the pride. That's why group therapy is a difficult process, hard. You want to escape – from encounter, from tao, from primal therapy, you want to escape. Why do you want to escape? Because you have always believed that you are perfectly right, you are perfectly good – others have been doing harm to you…
NOBODY IS RESPONSIBLE EXCEPT YOU. This is one of the hardest truths to accept. But once you accept it, it brings great freedom, it creates great space. Because with this, another possibility immediately opens up: "If I am responsible then I can change. If I am not responsible, how can I change? If I am doing it to myself, then it hurts but it also brings a new possibility – that I can stop hurting myself, I can stop being miserable."
A group process is not to make you natural; it is to make you aware of your unnaturalness, of your phoniness.
OSHO
[/tw-toggle]
[tw-divider][/tw-divider]
[tw-toggle title="Information – Osho Art Therapist Training"]
[tw-divider][/tw-divider]
Meera Art Therapist Training DVD Sample

[tw-divider][/tw-divider]
Osho Art Therapist Training
Osho Art Therapist Training provides the essential training for those who want to work with people through Art and Therapy. Many unique exercises are used in order to look into our patterns and tendencies, which help us to awaken our original expression. The entire process is accompanied by Osho's active meditations including Dynamic and Kundalini.
Creativity is simply our human nature, when this creative energy is present in our lives we feel an energy and enthusiasm that extends far beyond painting and into everything we do. It is the process of learning about oneself and an ongoing journey of finding an original expression in us.
We dive deep into the process of primal painting, self portrait, nature painting, group dynamics, and open studio. We examine our inner motivation and the influence of our family of origin. During this time together we meditate, and grow together in an atmosphere of trust, sharing, playfulness and curiosity to allow us to expand into a greater awakening of our own being.
The training takes place at Amalurra a community of 16 families established over two decades ago who are dedicated to a single vision of growing together in harmony with their environment. The new meditation hall of the community situated in the unspoiled natural landscape of northern Spain becomes our work studio; to paint, mediate and learn together. Later in part 2 we paint in nature in the woods, by the river and in the gardens of the community.
The community of Amalurra is located close to the village of Artzentales and close to the towns of Zalla and Balmaseda. It is connected by bus and train links to the city of Bilbao and is a 40 minute drive from Bilbao International Airport and about 3 hours from San Sebastian Airport.
Art is the longing of the individual to be bridged with the whole of life; to connect with and give expression to life itself.
Thousands of years ago, in the caves of Altamira in Spain, long before any art schools were born, ancient tribes of hunters depicted bison and other animals with great sensitivity and accuracy. Their art was not the product of some carefully learned technique. It was a pure prayer of human expression.
In a similar way, while reading this book, you may suddenly remember your own thirst to express, even if you are not a trained artist.
This thirst can be remembered easily, because creative expression is nothing but your own life energy – it's like invisible blood running through your body.
The intelligence to create is hidden in us and can flow out like a spring bubbling from a snow-covered mountain top. It is endless, abundant and delightful.
In our contemporary society, art is being treated more and more as a separate entity, something reserved for specialists, like any other profession.
This is a pity, because painting not only is everyone's birthright; it is one of the greatest tools for awakening one's consciousness and awareness.
In the long tradition of Zen, many different spiritual methods – including art – have been dedicated to a single aim: to recognize the inner space known as "No Mind," or "Isness."
Zen masters developed all kinds of strange devices to bring disciples to a place where the normal, thinking mind has nothing to grasp, no foothold on which to stand. In this gap, suddenly the disciple is directly confronted with existence, with life.
This book invites you on a similar kind of journey, on a search to find yourself and the source of your original expression.
Painting can be a mirror to look deeply into yourself. When you paint with awareness, whoever you are, whatever you are feeling in this moment, will find expression on the paper and be captured there, reflecting yourself back to you.
All that you need to do is stay open and watch. In this way, through awareness of each moment, a revolution in consciousness is possible, because the mind has no space to get into old habits of commenting, judging, criticizing or instructing.
Living each moment means giving space to intuition and spontaneity. Once you learn this secret, painting is sheer joy and playfulness. You are accepting the invitation of life energy to flow through you.
My hope is that, by reading this book, you will get so turned on that you will also want to look inside yourself and discover how painting can open all the doors and windows of your creative intelligence.
[/tw-toggle]
[tw-divider][/tw-divider]
Osho Dynamic Meditation introduced by Meera
→ More info about Dynamic Meditation
[tw-divider][/tw-divider]
Painting Event in Korea 2015